Oh hai there, fellow blog readers and chocoholics! I haven't updated in over a month, which means that it's time I clear out the empty chocolate wrappers on my desk and actually review some cocoa products.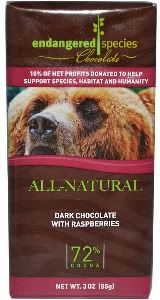 I love raspberries, and I love chocolate, which by all rights means that I should love chocolate and raspberry bars. Right? Wrong. Although I love the raspberry flavoring in most chocolate/raspberry products, these sorts of bars also tend to include raspberry seeds. No matter how small they are, crunching down on one of those seeds drives me absolutely nuts. The biggest examples of this are Ghirardelli's
Dark Chocolate and Raspberry squares
. Delicious Ghirardelli dark chocolate? Check. Raspberry filling? Check. Raspberry seeds? Yep. Check.
Naturally, I was immediately wary when my mom gave me this bar of Endangered Species Dark Chocolate with Raspberries for Easter. Unlike the Ghirardelli, the raspberry in the Endangered Species isn't a filling; it's a dark chocolate bar with small chunks of raspberries (and seeds). For this reason, the raspberry flavor isn't nearly as strong as it could be; it was more like eating a dark chocolate bar with a mere dash of raspberry flavor. Overall, not something I would buy again.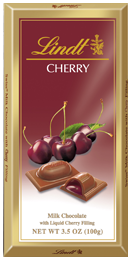 And then I bought this delightful thing. Lindt's milk chocolate bar has a super liquidy, cherry-flavored filling that may not be as au natural as the Endangered Species bar, but still tastes absolutely delicious. Keep in mind, for those of you buying this chocolate, that the filling is extremely liquidy; it's about the consistency of the filling in a Cella's chocolate covered cherry. It's also super sweet because of the milk chocolate; I actually felt sick after eating more than two squares at once. If only a dark chocolate version was made...
Endangered Species Dark Chocolate with Raspberries:
2.5/5
Lindt Milk Chocolate with Cherry Filling:
4/5