Although I want this blog to focus primarily on reviewing chocolate, I can never pass up the opportunity to share my favorite chocolate recipes. The following is one of my favorites to make around Christmas, although the only reason I think of it as a Christmas recipe is because I found it in a December issue of the now-defunct Gourmet magazine. The only way to really describe these sinful cookies is with one word: potent. There are three sources of chocolate in them: unsweetened baking chocolate, chocolate chips, and unsweetened baking cocoa. Thus, there's so much chocolate in these babies that you have to make them on the small side, or else they'll be too rich to finish. So, without further ado, I bring you my chocolate truffle cookies:
Ingredients:
4 ounces unsweetened chocolate, chopped
2 cups semisweet chocolate chips
6 tablespoons butter
1/2 cup all-purpose flour
2 tablespoons unsweetened cocoa powder
1/4 teaspoon baking powder
1/2 teaspoon salt
3 eggs
1 cup sugar
1 1/2 teaspoons vanilla extract
Directions:
Melt unsweetened chocolate, 1 cup of the chocolate chips, and the butter in a 1-quart heavy saucepan over low heat, stirring occasionally. Remove from the heat and seat aside to cool.
In another bowl, stir together the flour, cocoa, baking powder and salt.
In a mixing bowl, beat eggs, vanilla, and sugar until thick and pale, about 2 minutes.
Mix in the melted chocolate mixture. Add the flour mixture until combined well. Stir in the remaining 1 cup chocolate chips.
Cover dough and chill for two hours.
Preheat oven to 350 degrees F. Roll chilled dough into 1 inch balls with dampened hands. Place on ungreased cookie sheets (or sheets lined with parchment paper) so they are 2 inches apart.
Bake for 10 minutes in the preheated oven. Allow cookies to cool on baking sheet for 5 minutes before removing to a wire rack to cool completely.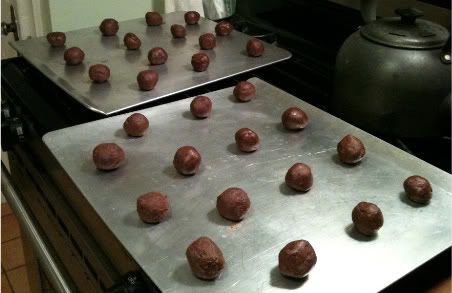 The cookies before entering the oven.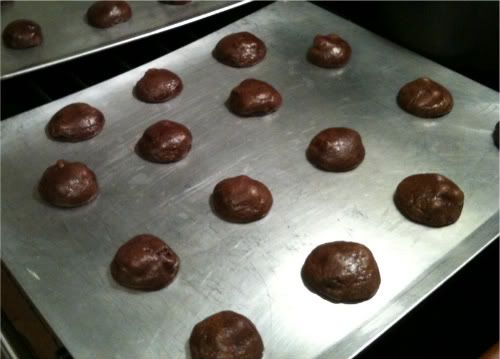 After their trip to the oven. As you can see, they don't expand much.
A few notes...
- the original recipe calls for ungreased cookie sheets, but I've found that the cookies can still stick a little once they're done. So I prefer to use parchment paper instead.
- you definitely want these cookies on the small side. As noted above, they pack quite a punch, so 1 inch balls is really all you need. (That's what she said?)
- although the recipe says to have the dough refrigerate for two hours, you can probably get by with just one hour.
- it's a little hard to tell when they're done; I take them out when cracks start appearing in the top of the cookies (which should be after 10-11 minutes). These cookies are definitely ones that taste better undercooked rather than overcooked.
- they taste fantastic when warmed up. You can microwave them for 10-15 seconds to get that gooey, warm taste; the chocolate chips melt when they're warmed up and taste amazing!
If anyone makes these cookies, let me know how they turn out! They're always a hit with my family :)