About a month ago, I stopped by Target to pick up some things and decided to see if anything was on sale in the chocolate section. As I started to head down the candy aisle, however, I found my passage blocked by a rather large woman and some small children, so I decided to hit up the chocolate (which was located at the other end of the aisle) by circling around and going down the next aisle instead. Unfortunately, the aisle next to the candy just happened to be filled with all sorts of Valentine's Day candy. And that's when I found this: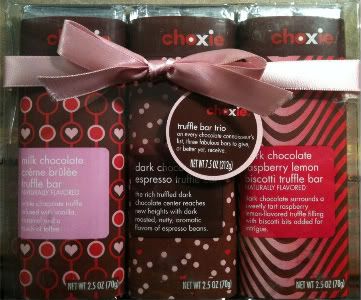 This Choxie Truffle Bar Trio contained three miniature Choxie bars: a creme brulee truffle bar, a dark chocolate espresso truffle bar, and a dark chocolate raspberry lemon biscotti truffle bar (which I
already reviewed a while back
).
The last time I was looking at Target's chocolate collection, I was curious about the creme brulee bar; but because I'm not a huge fan of creme brulee, I was hesitant about buying an entire creme brulee-flavored chocolate bar. So this mini collection turned out to be perfect in terms of sampling.
First, I tried the espresso truffle bar. I've already
reviewed a few
chocolate espresso bars, so it should come as no surprise to say that I greatly enjoyed this one too. I can't get enough of chocolate and espresso... Anyway, I will say that although this was a
truffle
bar, I still expected to find tiny bits of espresso beans on the inside, so I was a little disappointed when that turned out not to be the case. I should also point out that, in terms of chocolate quality, the dark chocolate used by Choxie doesn't quite compare to the richness of other bars, such as Chocolove. But for the price, it's not bad at all.
And then I cracked open the creme brulee bar. The description on the bar states that it is a "white chocolate truffle infused with vanilla, caramel, and a touch of toffee." White chocolate, caramel, and toffee? If it sounds like this bar contains 100% sugar, that's because it does. I thought my teeth were going to rot and fall off as soon as I took a bite of this stuff. Holy moly it was sweet! Way, way too sweet for my palate, which is used to dark chocolate.
But I persevered and ate the whole bar, though I still haven't come to a conclusion as to whether I liked it or not. I could only eat a square or two at a time, that's for sure. If you like white chocolate, I recommend checking this bar out. But if you're used to something a little less sweet, I'd stay away from the creme brulee.
BONUS REVIEW!
A coworker of mine stopped at a Trader Joe's while on vacation a week or so ago (sadly, there are no Trader Joe's in Kentucky) and brought back a container of their dark chocolate covered espresso beans. Apparently another coworker of mine informed her that I have this lovely blog, so she gave me a handful to consume and review.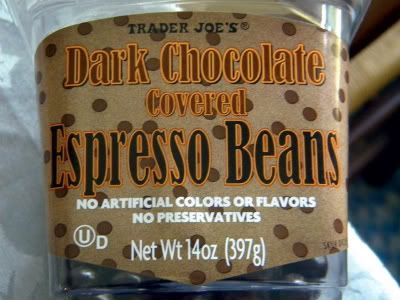 Yum. That's all I have to say. I could not stop eating these things! Buy them if you're near a Trader Joe's.
Choxie Dark Chocolate Espresso Truffle Bar:
4/5
Choxie Creme Brulee Truffle Bar:
3/5
Trader Joe's Dark Chocolate Covered Espresso Beans:
5/5