What do you get when you take a rich, buttery cookie and add a thick slab of delicious chocolate to it?
Choco Leibniz
!

I discovered these things during my freshman year of college, when my mom sent me a care package containing a box of chocolate cookies similar to Choco Leibniz. In retrospect, I'm almost certain she had given me a box of
Petit Ecolier
, but that doesn't matter; the point is, a few months after devouring the box of delicious cookies, I spotted some Choco Leibniz Noir (aka, the dark chocolate variety) at World Market and just had to buy them. This was the beginning of my addiction to Choco Leibniz, which reached alarming heights during my junior semester abroad in England. Choco Leibniz isn't exactly a rare item in the US, but it's far more prevalent in British grocery stores. Basically, I bought a couple boxes of these every time I went to the market in England (which was about once a week). Yum, yum, yum!

An old photo of Choco Leibniz Noir from my time in England. The box design has since changed.
So what IS Choco Leibniz? Here, just take a look at this delicious photo: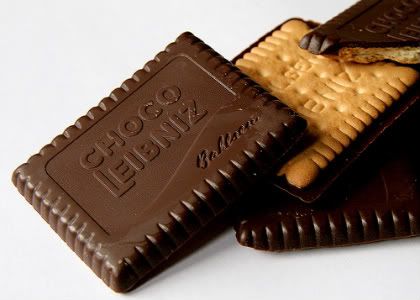 My mouth is watering already.
If you've ever had Petite Ecolier, then you've got a pretty good idea of what Choco Leibniz tastes like. Personally, I prefer Choco because the chocolate to cookie ratio is more even; with Petite Ecolier, I feel like the chocolate overwhelms the cookie part. But to each his own; both are excellent cookies. The only complaint I have is that Choco tends to be a bit pricey (about $3) for a box containing only nine cookies. As a result, I tend to hide the box so that no one else knows I have them. (Luckily, I'm not alone - one of my coworkers has admitted to doing the same thing with the milk chocolate kind.)
So where can you find these? I used to get them all the time at World Market, though I haven't been to one of those stores in a long time (the last time I went, my local World Market didn't have them. Sad face!) If you're in Louisville,
Doll's Market
always has boxes, although they sometimes run out of the dark chocolate ones. Sadly, I've never found Choco Leibniz in a chain grocery store like Kroger's or Jewel-Osco.
Choco Leibniz:
5/5