Ahoy, mateys! I come to you from 2011 with a large-ish post of some of the chocolate I've received over the Christmas/New Year's holidays. Hold on to your seats, cause it's a delicious ride!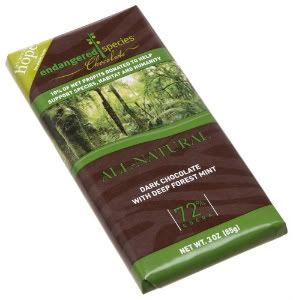 First up is
Endangered Species Dark Chocolate with Deep Forest Mint
. Remember when I tried the
Endangered Species Dark Chocolate with Espresso Beans
, and it kinda sucked because it was expired chocolate? Well, this time I went to Kroger, which has a much larger ES chocolate selection. I chose the mint because I love a good mint+chocolate combo, and this bar did not disappoint. Usually when I get mint chocolate it's Ghirardelli's
Dark Chocolate with Mint
squares, which have mint filling in them. In contrast, the ES bar was far more simple: literally just a bar of dark chocolate (72% cocoa) with mint flavor.
And it was great! The chocolate was just the right amount of dark, and the mint flavor was strong, but not enough to make it overpowering. The bar was a little thick, though, so it made sinking my teeth into it more of a task than I would want it to be. But, all things considered, it's a minor complaint.
As a side note, a quick perusal of the Endangered Species website tells me that there's also a special Christmas edition of this chocolate with a penguin on it! I feel robbed!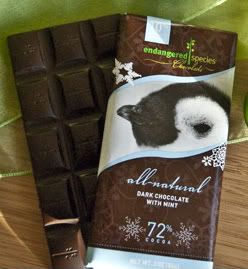 Guess I didn't save any penguins this year :(
Next up is a box of amazing truffles a good friend of mine gave me for Christmas: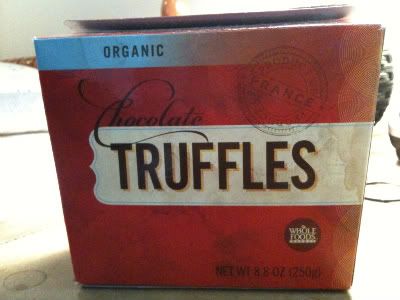 These organic truffles from Whole Foods are absolutely scrumptious; each truffle is a round ball of intense chocolate with a light dusting of unsweetened cocoa powder on each. I can't get enough of these things! Luckily, they're packed with so much chocolate that I've only been eating one or two at a time.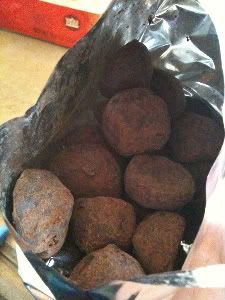 What the truffles look like inside the box.
The unsweetened cocoa powder on the outside and the sweet chocolate on the inside make for a great combination, although it would be a mistake to have any more powder on each truffle because there isn't any sugar in cocoa powder.
In short, if you're at Whole Foods and you see a box of these things, grab one!
Finally, here's a box of Hershey's chocolates someone at work gave me for Christmas: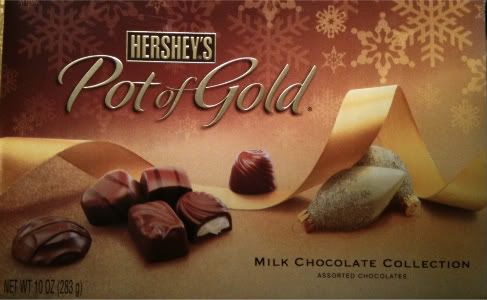 I don't like Hershey's, but that doesn't mean I won't eat a free box of chocolates. The different kinds of chocolates in here include butter cremes, milk chocolate truffles, pecan caramel clusters, chocolate caramels, and truffles with almonds. I've yet to try them all, but I did have some of the truffles and chocolate caramels and was pleasantly surprised. Don't get me wrong though; I haven't had a conversion regarding the amazingness of Hershey's. But they're not bad - not bad at all. I'd be curious to see how the dark chocolate collection compares.
Endangered Species Dark Chocolate with Deep Forest Mint:
4.5/5
Whole Foods Chocolate Truffles:
5/5
Hershey's Pot of Gold Milk Chocolate Collection:
3.5/5